The company Nissan announced the achievement of the next sales slap of the electric car Nissan Leaf – from the beginning of sales in 2010 and until now the Japanese automaker managed to sell 300 thousand copies of this model. Note that all the modifications and markets for electric vehicle sales were taken into account in the calculation. By comparison , at the end of 2017, Tesla sold 213,000 Model S sedans, 72,000 Model X crossovers and only 1,770 budget Model 3 cars in the amount of 290,000 electric vehicles.
Note that as of December 2016, around the world, more than 250,000 copies of the Nissan Leaf were sold, which even then allowed to call the model the most common electric vehicle in the world. At that time, the most popular markets were the USA (103.6 thousand), Japan (72.5 thousand) and Europe (67.8 thousand). A little over a year later, in November 2017, the total sales figure of the Japanese electric vehicle was 293,744 copies, and at the very beginning of 2018 it finally exceeded the 300,000 mark.
The jubilee version most likely was the new Nissan Leaf 2018, sales of which started in Japan on October 2, 2017, while European and American users will be able to officially purchase this electric vehicle starting from January 2018. As a result, the new Leaf will be available in more than 60 global markets.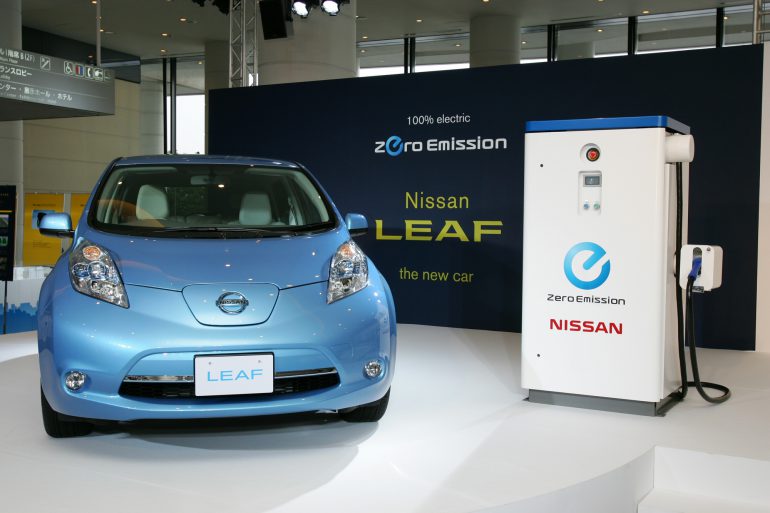 Recall that the first version of the electric car Nissan Leaf was introduced in 2010, after that in 2013 there was a modified version with a number of improvements, and in 2016 released its same version with an increased from 24 kWh to 30 kWh battery. In this case, all three models did not differ in appearance.
In September 2017, the brand new Nissan Leaf was announced with a more aerodynamic design, a 110 kW electric motor (80 kW for the predecessors) and a 40 kWh battery that provides a 240 km (EPA) power reserve. In 2019, the manufacturer should produce an even more powerful and self-contained version of the Nissan Leaf E-Plus with a power of 160 kW and a power reserve of up to 360 km from a battery with a capacity of 60 kWh.