Surprisingly, the Mobile World Congress 2013, which was very hopeful after the pretty fresh CES 2013, was very modest this year. Great announcements can be counted on the fingers of one hand, really interesting products on the fingers of the second. Does MWC lose its former importance?
Not an exhibition
At the peak hour, the entrance of the Fira Gran Via, the Barcelona exhibition center, to which Fira Montjuïc moved this year to the Mobile World Congress, resembles the Kiev Metro station at 8am on a weekday. People flow in a continuous stream, pausing for a second near the turnstiles to first show the passport, the photo in which is carefully checked with the visitor's face, and the name with what is written on the badge, and then attach the badge itself with the NFC-tag to the reader. Escalators work only on the rise, but everyone is recommended to use stairs and elevators, so as not to create congestion. There is only one significant difference: it seems that everyone hurrying to get on the MWC is dressed in uniform – strict gray / black / navy blue jackets, white shirts, ties of permitted colors. If you see someone without a jacket, with a probability of 100% it will be a journalist.
The word Congress was woven into the name not by chance, MWC is primarily a meeting place for business partners, colleagues, suppliers and manufacturers, engineering companies and software developers. Congress, assembled in order to conclude contracts, negotiate for cooperation, look for suppliers and contractors. And the exhibition … it was always just a kind of bonus, an extra reason to declare yourself. Recently, this part of the MWC is gradually losing its significance, which was unequivocally shown by this year's exhibition. All companies, inspired by the example of Apple and Samsung, realized that it is much more profitable to hold a separate event to launch new products, especially if they are top-end devices. Yes, it's probably a bit more expensive, but it's guaranteed to attract more attention and will not let the announcement get lost on the background of other news. Not for nothing HTC introduced its One, and LG its Optimus G Pro on the eve of MWC, and Samsung has planned a separate event dedicated to the Galaxy S IV on March 14 in New York. Yes, even ASUS showed its tablets outside the Congress, in a nearby hotel.
The cheapest admission ticket for MWC costs € 699 and does not entitle you to visit key reports and conferences, and access to all resources will cost you € 4,999. Checking the passport and badge at the entrance guarantees that there will not be any random people at the event, in addition, there is additional control at the entrance to some stands, conferences and communication areas.
Booth babes at MWC are several times smaller than the businesswomen in strict trouser suits, and they, in turn, are an order of magnitude smaller than men in business uniforms – the information and communication business is still too masculine. Half of the stands are closed negotiation zones, to which the press is not allowed. Most of the exposition is dedicated to engineering and software solutions for operators and manufacturers – new types of antennas, base stations, touch screens, encryption systems, authentication, payment solutions, etc. Something like this is COMPUTEX, but mobile, rather than a desktop-server orientation. At COMPUTEX, there are manufacturers of components and device makers, and on MWC, solution providers and service operators. Along with the stands of companies, there are also congress zones of states – France, Canada, Israel, the same Catalonia, but some Chinese / Taiwan pavilions, like at other events, are not here.
At the exhibition there are quite large stands with consumer products and some of them amaze their imagination with their size, but it seems that their main purpose is to amuse the princes of the brand owners. The exhibition part of the MWC is the same cherry on the cake. Yes, it is in the center of attention, yes, it attracts the eye and everyone would like to eat it, but it does not give any idea about the taste of the cake itself, and is trivial less than a hundred times.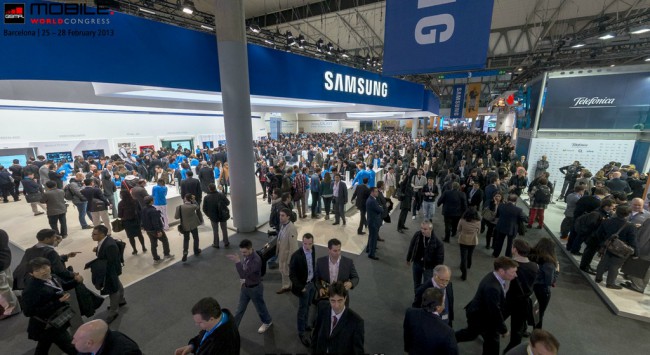 It seems that the MWC lives all of Barcelona, ​​which proudly calls itself these days the Mobile Capital of the World, which is trumpeting posters on every corner. Barcelona is one of the most tourist-loaded cities in the world, but in February to a high season it's still far away and the impression that MWC is becoming for Barcelona the second summer – an opportunity to make good money. If you do not plan a trip in advance (preferably in half a year), you can rent a hotel just outside the city and you will get to the exhibition center for a long time. However, from those who wish to help the guests of the Congress there is no release – they are met at the airport and are gently accompanied throughout the city. It seems that every boy in Barcelona knows how to get to the exhibition center, not to mention the mass of volunteers who send groups of visitors to the metro, on the approaches to the exhibition, at the Congress itself. Plus additional police outfits, first aid and other mandatory attributes of a large crowd of people.
Fira Gran Via is simply huge. To get to the connecting all the pavilions of the covered gallery, it looks more like a street with intensive traffic, from the end to the end of the exhibition center you will need 16 minutes. Given that the area of ​​Fira Gran Via is 2 times larger than Fira Montjuïc, MWC still has a lot to grow. And, of course, another record for the number of visitors has already been delivered – this year more than 72 thousand people visited the Congress, which is 5,000 more than in 2012. Given the cost of tickets and the contingent of participants – just a fantastic figure, not all consumer exhibitions can boast such number of visitors. And Barcelona is chosen as the "Mobile Capital of the World" until 2018, so in the next 5 years MWC will be held here. But whether there will be at least something of the former exhibition in it or it will turn into a purely business event,
MWC 2013 Trends
The exhibition is nothing more than a bonus for MWC visitors, but the consumer devices shown on it allow you to draw some conclusions and trace the trends of the mobile industry for the near future. Let's try to identify the main ones.
The era of exhibitions has passed, the time has come for online broadcasts. CeBIT is living out its own, turning into a boring corporate event, COMPUTEX is a large supermarket rather than an exhibition, IFA is a very regional event, crowded with lootering teenagers and bored burghers, and even CES this year was not pleased with the big announcements. Well, the Mobile World Congress is still a congress. The era of IT exhibitions ends.
Chinese smartphone manufacturers are ready to compete with A-brands on their territory. Judging by the Huawei and ZTE stands at the Mobile World Congress, which are not inferior in size to the stands of leading companies, Chinese brands are seriously preparing to storm the consumer market in Europe and the US. Yes, there is still something to work on the design and the software part sometimes raises questions, but the ZTE and Huawei line of devices are very interesting from the point of view of iron. Within 5 years, Chinese brands can do well with Korean, too, that 10 years ago they made it with Japanese – to force them out of key market segments. We hope the current leaders are aware of the existence of such a threat, rather than brushing it away, as Sony did in its time against Samsung and LG.
Large diagonal. You can fantasize a long time about whether Apple will decide to release a 5-inch iPhone to compete with Samsung Galaxy Note II , which created a new, very profitable, segment of large smartphones. But while Apple has traditionally remained silent, other manufacturers rushed to present their versions of plafonds and phabets. LG already has a strange Optimus Vu with a 5 "screen and a 4: 3 aspect ratio, to which 5.5" Optimus G Pro with classic display proportions is added . Sony introduced the magnificent Xperia Z with a 5-inch screen. ZTE has shown on MWC the new Grand Memo flagship with a diagonal of 5.7 inches. And Huawei boasts the largest smartphone on the market – Huawei Ascend Matewith a screen of 6.1 inches. Well, ASUS decided not to waste time on trivialities, and immediately release a 7-inch Fonepad . And that, you see, and she will manage to create her own segment. There were precedents.
Diagonals for all tastes. iPad mini did not remain the only device with an 8-inch screen from the A-brand for a long time. Samsung struck a symmetrical response to its Galaxy Note 8.0 . Producers in search of niches are ready to represent devices of any diagonals. We have "small" 4-inch smarftons, medium-sized screens with 4.5 ", large with 5", then there are transition 6-inch fabrics, small 7-inch tablets and slightly smaller 8-inch ones. Classic tablets occupied the entire spectrum of diagonals from 9 to 10 inches. Plus there are experiments with screens 11-12 ". Well, in addition, some cunning companies make detachable Android-monoblocks / displays, calling such hybrids family tablets. Here we are talking about the diagonal 20+. That's really so, for every taste.
13 Megapixels. The megapixel race continues, and once the market of inexpensive cameras cringes, the same marketing device can easily be used in the smartphone market. Cameras with a 13 Mp sensor from Huawei Ascend P2 , Sony Xperia Z , Asus PadFone Infinity , ZTE Grand Memo, ZTE Grand S , LG Optimus G and G Pro . It looks like such a camera will become standard for flagship models.
Smartphones for special purposes. The smartphone market is segmented not only in terms of price factor. Small niches for special purpose devices began to appear. We've seen protected smartphones before, but there are still no similar Caterpillar CAT B15 , from a well-known manufacturer of heavy construction and agricultural machinery. It seems that this device will survive even after moving his bulldozer Caterpillar.
Another unusual device shown at MWC 2013 is the Fujitsu Stylistic S01, a touchscreen smartphone for the elderly, with an extremely simple interface that adapts to the speaker's timbre with a speaker, an alarm button and a fantastic feedback tactile response when you tap a screen that simulates a physical click on a button. Probably, such niche devices will appear more and more in the future.
Mobile 3D is everything. Experiments with 3D in mobile devices have ended and have not started, at MWC 2013 this technology was not even mentioned.
In contrast to past years, there were very few announcements and interesting products presented at the Mobile World Congress 2013. Practically with all you had time to get acquainted in our news line from the congress .
So, is it worth waiting for MWC 2014? If you work in the field of information and communication technologies and look for ways to develop your business – yes, of course. If you are interested in smartphones and tablets and are waiting for presentations, new products and drive – I'm afraid not. There is still hope that this year's Congress was an exception to the rules, and the next exhibition will come back and please us with interesting products. I'm afraid that this is a phantom hope.